And what about a sherry that pre-dates the French Revolution? Specialist Noah May reports from a Christie's Wine Department dinner in London at which leading collectors sampled wines spanning three centuries
On a cold December evening last year, a group of seasoned tasters from around the world gathered in the historic boardrooms at Christie's in London to assess a rare grouping of wines crafted in a broad range of styles that spanned three centuries.
It was the latest in a long history of wine dinners curated by the Christie's Wine Department, in which we have attempted to communicate the longevity and singular charms of the finest wines over time.
The evening began with one of the greatest flights of 'white' wines that I should ever reasonably expect to taste, and went on an extraordinary journey from there. These are some of my tasting notes from a memorable occasion.
White wines
We got off to a slightly inauspicious start with a 1905 Arbois Blanc that was just a little too funky — too feral and jarring, so we swapped it for the back-up: 1896 Château Chalon. From there, we cumulatively covered four and a half centuries, and a kaleidoscopic, deeply evocative range of sensations.
Marqués de Murrieta's Castillo Ygay whites are wines of legend. Deep-coloured, oxidative and always generous in character, they can last many decades, yet rarely does one have the opportunity to taste back to 1878, especially in half-bottle. Our hand-blown, diminutive beauty came directly from Murrieta and had been prudently re-corked three times (1928, 1957 and 1988) during its long life.
On tasting, the merit of all that hard work was immediately apparent. The wine was magnificent. There was an oily pungency to its honeyed, waxy core and a sense of layered complexity, which was enchanting and lasted long after the wine had gone.
Manzanilla sherry is typically drunk young, shortly after release, and is enjoyed for its fresh, floral, salty tang — ideally with Spanish ham in warm weather. This bottle was different: bottled at Apsley House, the London home of the Dukes of Wellington, in 1865. We decanted the wine and it poured straw-yellow into the carafe.
At over 150 years of age, it looked almost like a young en rama Manzanilla. On tasting, the 1865 was well-balanced, chalky and lightly nutty with a characteristic smoky edge. Its colour and youthful gait made it hard to believe it was bottled when Abraham Lincoln was President of the United States.
The last wine of the flight, another sherry, took us back almost a century further to 1779 — 10 years prior to the French Revolution. This was a historic and humbling experience. The label simply stated Jerez 1779: faded text on an ancient, irregular bottle. Whether the wine had ever been re-corked was unclear, but the cork we drew from the bottle could very reasonably have been original — so short, shrunken and saturated was it.
Surprisingly, the wine poured with beautiful clarity — deep, golden amber in the glass. Tobacco, tea, leather and notes of old furniture characterised the nose. The wine was akin to an old Amontillado in style — fully dry, oxidative and with a touch of alcoholic heft. The table was silenced as we savoured this beautiful, haunting moment.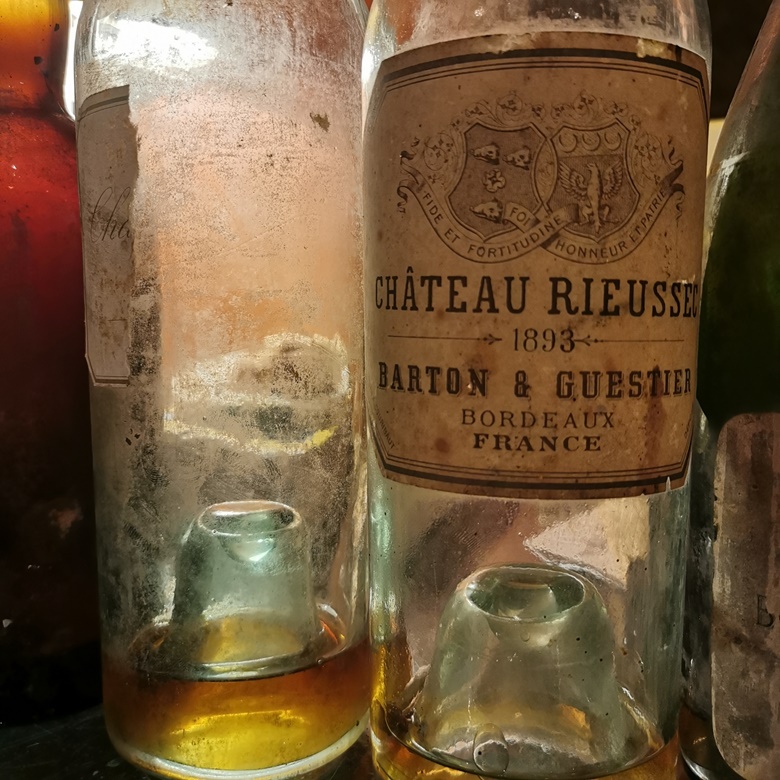 We then moved into a bittersweet flight of Sauternes. Rieussec 1893 was pristine and in excellent condition, made in a dryer style, but with requisite acidity and verve at this advanced age.
D'Yquem 1893 should have been one of the dinner's brightest stars as this is a noted vintage for this great property. On decanting, one could feel the texture, the weight of botrytized grapes and sense its potential for greatness.
Sadly, the wine was corked. Glasses were poured for the table anyway and we held our noses and tried to focus on the singular and magnificent wine that clearly lay beneath the brutal veil of TCA.
At the end of the first flight we returned to that primal Arbois Blanc and, feeling braver, applauded its authenticity.
Red wines
On to the red wine. Burgundy to begin and two vintages of Chambertin — first Bouchard Père et Fils 1885 and then Bouchard Ainé 1893. Both wines were fascinating to taste. As we know, older examples from this period, from Bouchard Père et Fils' superlative Beaune cellars in particular, have been sold and tasted in recent years. These are typically tasted and topped-up periodically and as such, they are consistently excellent.
These wines, however, had a different profile: original bottlings with lower levels, and under very old corks. On pouring, there was a certain frailty to both vintages — a touch of maderisation and some vegetal, earthy notes that took time to lift. These are intellectual wines, faded old Grand Crus that speak of a time that we rarely access, and should be judged on that basis.
Of all the great dry red wine regions, Bordeaux is probably the most vital when considering wines of this venerable age. The flight of Bordeaux was extremely varied in form, quality and age.
We began with a late-released Château Angelus 1900, which was a masterclass in soft elegance and poise. The wine had a structure that indicated a slightly higher proportion of Cabernet than you might find in Angelus today, and a persistence that belied its near 120-year-old life.
We sat, quietly considering what it meant to taste Bordeaux that's almost 160 years old, all that had happened, and all that's been lost and gained through that passing of time
Next was a Dutch-bottled Margaux 1899. The wine poured deep garnet, and had a powerful, earthy nose. It was almost off-putting in its burly intensity, but in time resolved itself in the glass and developed into one of the most impressive and evolutionary wines in the flight.
Palmer 1869 is a wine I will remember for the rest of my days. The bottle was re-conditioned in 1989 and came to market directly from Château Palmer. Prior to opening, we marvelled at the luminous colour of the wine. Once opened, it was the mesmerising perfume that we were enamoured by: classic old Palmer, and truly incomparable.
On the palate the wine was fully mature, but still with a lifted intensity and long finish. Its character was totally seamless, with none of the discordance than can sometimes result from re-corked bottles. It was one of the finest re-conditioned wines I have ever tasted.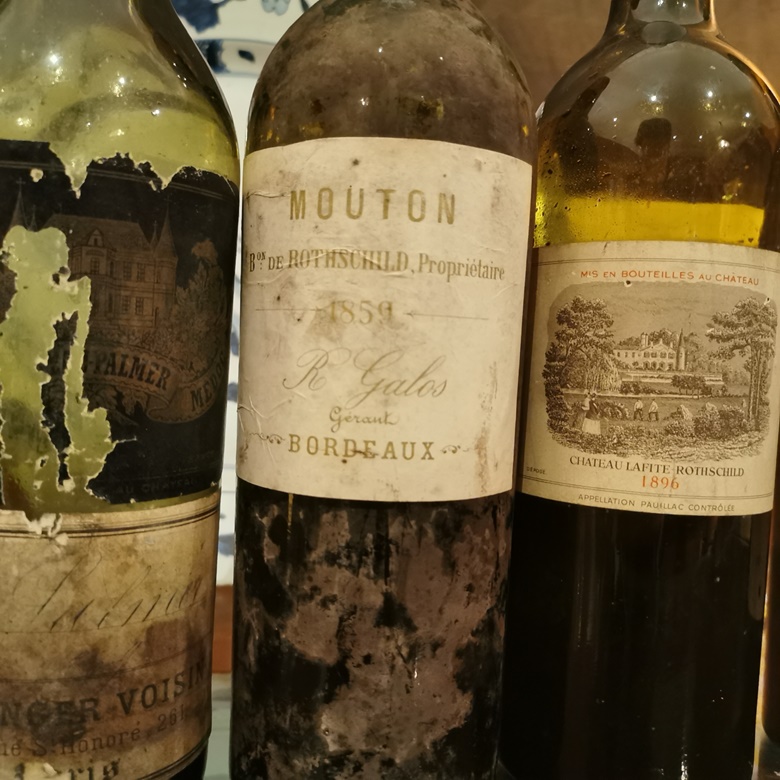 Lafite 1899 was sadly lost to the assaults of time, but the 1896 vintage from the same property more than made up for this disappointment. This wine was the apogee of the elegance that Lafite is perhaps best known for: everything in exactly the correct proportion — noblesse oblige in a glass.
Mouton Rothschild then followed in the form of two legendary vintages. Again, and with sadness, the 1870 Mouton, like the Lafite 1899, had lost more than it had gained. Yet the 1859 Mouton was as spellbinding as wine gets. Tasting was preceded by an appreciation of the wine's multi-faceted perfume. This time it was classic Pauillac with more graphite and leather — more masculine and ferrous than the earlier wines.
As with the 1779 sherry, there was a moment when we lucky tasters sat, quietly considering what it meant to taste Bordeaux that's almost 160 years old, and to consider all that had happened, all that's been lost and gained through that passing of time.